Enjoying bike rides with your little one can be a great bonding experience. But transporting a bike — more so a bike with a child seat — can be tricky. You might want to load it into a bike rack on your car, but can you do that with a bike that has a child seat?
You can put a bike with a child seat on a bike rack. You just have to choose the kind of carrier or rack that will be most aerodynamic. Also, consider the extra weight, which part of the vehicle you'll be fitting the rack onto, and the safety of the bike throughout the trip.
In this article, I'll discuss the different ways you can transport a bike with a child seat, and the dos and don'ts of the same.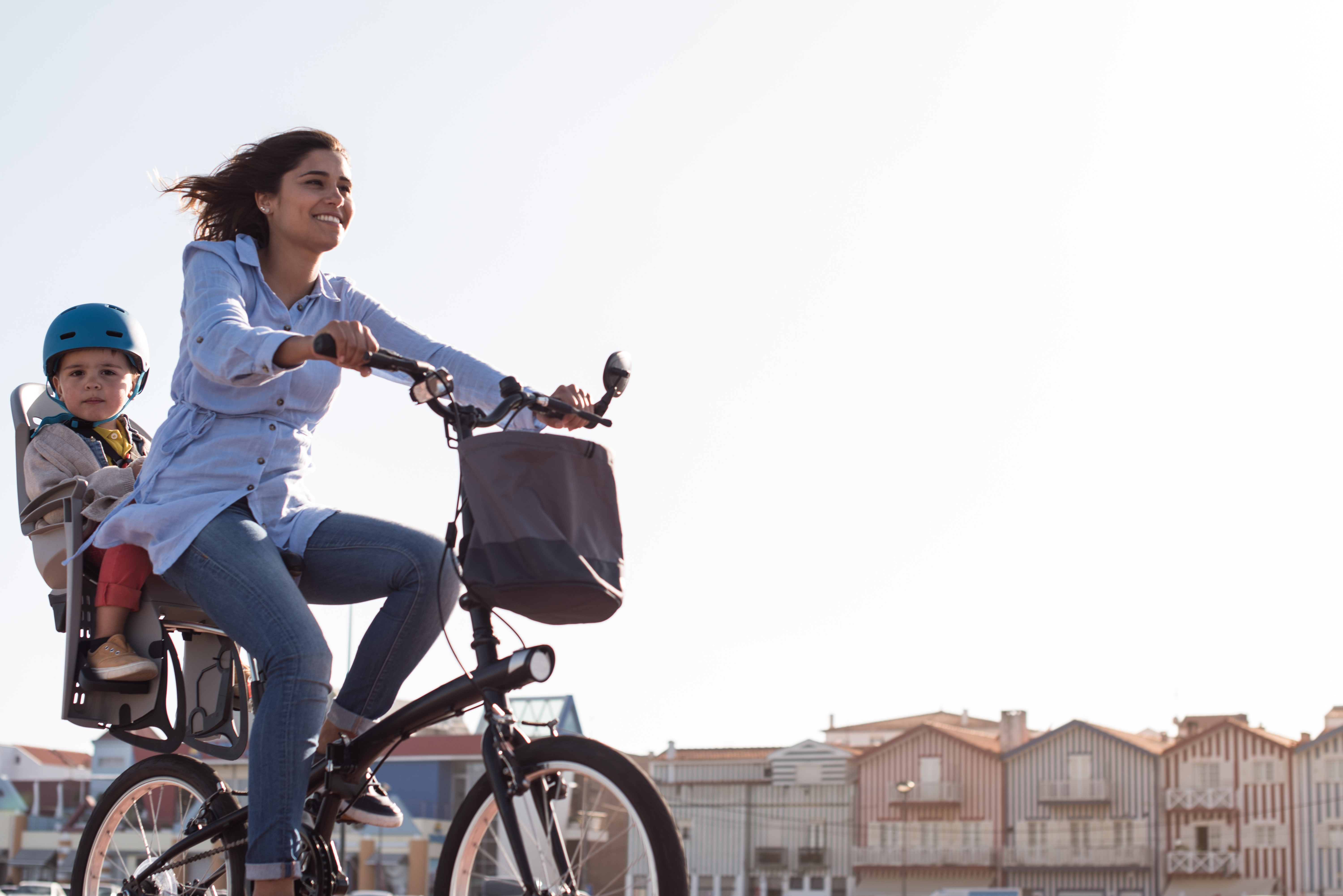 How To Transport a Bike With a Child Seat
Bikes can be tricky to transport, especially if you're transporting a bike with a child seat. Bikes are already big and heavy as they are, and when fitted with a child seat, they become extra bulky and come in a shape that's impossible to fit in a car. Thankfully, there are ways to work around this. 
Here are four different ways you can transport a bike with a child seat:
Use a trunk carrier
Install a trailer receiver rack
Put your bike on your tailgate
Put your bike in a bike traveler bag
Let's talk about these in more detail below.
Use a Trunk Carrier
Trunk carriers are usually cheap, durable, and easy to find. Once you have one of these clamped onto the back of your car, you're pretty much good to go. They can also fit any type of bike — including a bulkier one with a child seat. However, you'll need to read the manufacturer's instructions on how much weight the carrier can handle.
If you've never used this type of rack before, know that it's a pretty straightforward rack. All you have to do is clamp it onto your car's trunk and fit two bars on which you will hang your bike. While the above steps sound simple, most people find setting up a trunk carrier and securing the bike onto it time-consuming. Just bear that in mind if you choose this option.
Once you have the carrier set up and your bike secured though, everything will go smoothly from there. Trunk carriers can also be useful for carrying other large loads, so it's handy for those who are often on the go.
Install a Trailer Receiver Rack
A trailer receiver rack is similar to a trunk carrier, though this one is easier to install. After all, most vehicles already have a trailer hitch receiver you can use to set up the rack. Like a trunk carrier, this type of rack fits your bike close to the body of your vehicle.
Trailer receiver racks are pretty aerodynamic, so they don't pull your vehicle back with their weight. Also, since they're attached to a trailer hitch receiver, they're less likely to scratch your car as you set them up. They secure your bike through its wheels, making it stable and unlikely to damage your bike. 
Put Your Bike on Your Tailgate 
Using this option, all you have to do is put your bike on your truck's tailgate and then secure it so it stays in place as you drive. The biggest pro to this option is you don't have to worry about how much weight your bike rack can carry or if your rack's design can accommodate the type of bike you have. 
However, because you'll be using your car's tailgate itself to hang your bike on, you can expect scratches on both your tailgate and your bike.
Also, since your bike will be set directly on the tailgate (unlike with other transport racks where there's a space between the car and the bike), your bike will be constantly hitting your tailgate when your truck is running, which can damage delicate parts of your bike. Not only will your bike experience scratches or dents, but it'll also affect performance and even make your bike unsafe to use.
Put Your Bike Inside Your Car
If you want to have absolutely nothing hanging at the back of your car, you can put your bike inside your car instead. To do this, you may have to remove your bike's wheels and fit your bike on top of your car's rear seats. Be sure to cover your car seats before fitting the bike in, as this process gets quite messy. 
You can also buy a bike bag and put your wheel-less bike in there. A child seat will likely not fit inside the bag, but you can simply detach the child seat and put it somewhere else in the car.
However, while this is the cheapest way to transport your bike, it can be a huge hassle to have to remove and put the wheels back on — not to mention messy. Prepare to encounter lots of grease, for starters!
Don't Use a Rooftop Carrier
If you don't want to detach the child seat or are traveling a long way, you should avoid loading your bike onto a rooftop carrier. That one is best used with flat objects that can sit squarely on the roof of the car. Loading a bike with a child seat on a rooftop carrier can drag your vehicle
Your rooftop rack may be able to carry a bike without any problem, but if that bike has a child seat, the added weight might put undue stress on your rack. 
So unless you're traveling a very short way or are running very slowly, you shouldn't consider this method of transporting a bike with a child seat. 
Conclusion
It's possible to transport a bike using a bike rack, a truck's tailgate, or a bag inside your car. When choosing which option to go with, consider whether your rack can carry the weight of your bike plus the child seat, your comfort, and the safety of both your bike and car.
Sources